News

UN Multi Partner Trust Fund concludes first phase of Kong Koc project

Image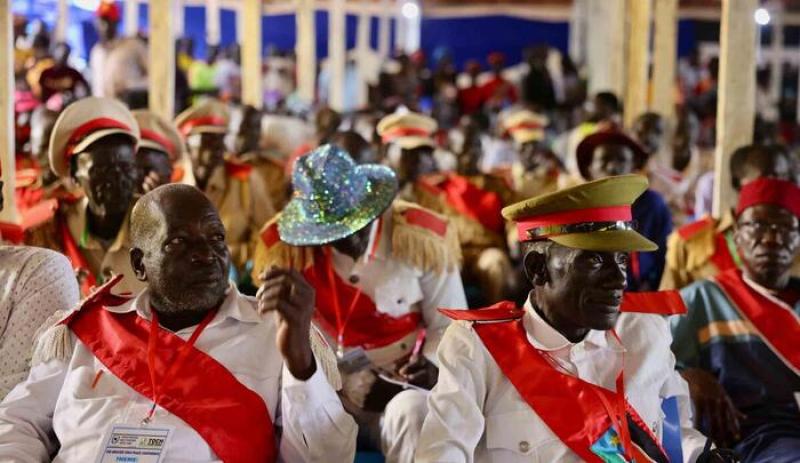 RSRTF - WARRAP – South Sudan's 2018 peace deal led to a reduction of politically motivated violence. However, sustainable peace and development is still hanging in the balance.
In the Greater Tonj area of Warrap state, communities have been traditionally caught in cycles of conflict, but thanks to a project called Kong Koc – which means 'to wait' in a local dialect—funded by the South Sudan Multi-Partner Trust Fund for Reconciliation, Stabilization, and Resilience (RSRTF), hope has resurfaced through more than 15 community dialogues over a six-month period.
To mark the completion of activities in the first phase of this project, more 500 representatives from across Greater Tonj met with high-level government delegates, donors, and implementing partners for a final consultation to validate key development areas that have been identified and prioritized in previous sittings.
"We have been at odds for nearly 17 years. It is rare for us to sit together like this," Karbino Bith Chol, a Tonj South youth leader.
"This was the first time in days that we were in the same space without arguing or fighting," he added.
He went on to say that by providing young people with vocational training and involving them in the implementation process, the project has significantly reduced criminality and cattle theft across Greater Tonj.
"Many young people are unemployed. They are impoverished and have few economic opportunities. Stealing has become a way to put food on the table and that is why there are so many criminal organizations now. But with the Kong Koc project, they are getting involved and engaged in gainful activities that provide them with the ability to earn a decent living," he revealed.
The Kong Koc project's philosophy is that lasting peace and development necessitate community leadership and ownership.
Participants in every dialogue were fully involved in arriving at final decisions on how to implement the project in their respective areas by validating previously agreed development agendas and, in doing so, laying the groundwork for peaceful, stable, and resilient communities.
"As a woman, I'm glad to see that our community leaders and government entities have agreed to review traditional or customary laws to ensure they are still valid in today's context. This is a significant step forward," Mary Nyang Ayiek, a Tonj North women's representative, pointed out. "I believe this review is also critical for South Sudan's permanent constitution," she added.
This forward-looking project was funded through RSRTF donors including Germany, Sweden, the European Union, the Netherlands, Canada, Switzerland, Norway, and South Korea.
Donors attending the event commended the willingness demonstrated by community members in partnering with the RSRTF to usher in a future of peace and development.
Rosemarie Hille, the German Embassy's First Secretary in South Sudan emphasized that donors will continue to support the people of South Sudan. "Peace does not imply the absence of all conflicts. It is the ability to resolve a conflict without resorting to violence. That is why we support this new way of working which prioritizes dialogue and reconciliation," she stated.
For her part, Anastasie Mukangarambe from the United Nations Mission in South Sudan (UNMISS) acknowledged the criticality of donor funding in making this initiative a reality, while calling on government partners to continue their full support to this initiative.
"I strongly urge the government to accept responsibility for protecting civilians and any properties built during the project. Please ensure that whatever comes out of this conference is implemented by community members across Greater Tonj. Everybody has a part to play to bring in development," she averred.
Following this final consultation, the project will enter its implementation phase.
Consortium partners for this two-year multisectoral project in Warrap include UNMISS, the UN Development Programme (UNDP), the World Food Programme (WFP), The Organization for Children Harmony (TOCH), The Adventist Development and Relief Agency (ADRA), and Peace Canal.
Photo: Zejin Yin/UNMISS
© In the Greater Tonj area of Warrap state, communities have been traditionally caught in cycles of conflict, but thanks to a project called Kong Koc – which means 'to wait' in a local dialect—funded by the South Sudan Multi-Partner Trust Fund for Reconciliation, Stabilization, and Resilience (RSRTF), hope has resurfaced through more than 15 community dialogues over a six-month period
Originally published on reliefweb.int