News

Global: New Network Accelerates Action for Women in Forced Displacement

Image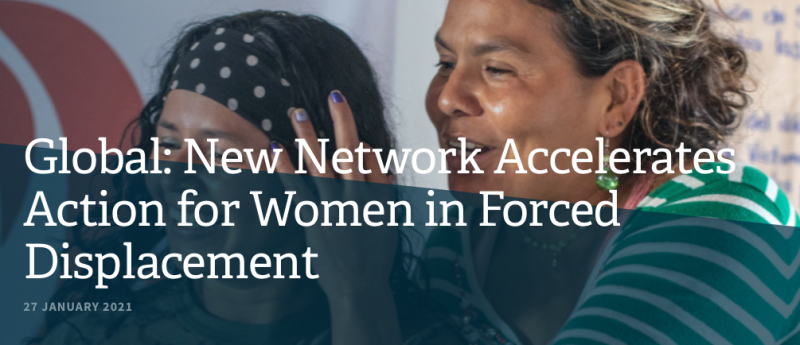 The German Federal Ministry for Economic Cooperation and Development (BMZ), in partnership with the Women's Peace and Humanitarian Fund (WPHF), established a new global action Network to support forcibly displaced women and girls around the world.
Launched in October 2020, the Action Network on Forced Displacement: Women as Agents of Change aims to strengthen the political and economic participation of women affected by forced displacement, while serving as a revolutionary global advocacy platform to enhance their visibility, knowledge exchange, networking opportunities and resource mobilization efforts.
"The views and specific needs of displaced women and girls are still not getting the attention that they deserve," said German Parliamentary State Secretary Maria Flachsbarth of the Federal Ministry for Economic Cooperation and Development. "This Network will give a voice to those who too often remain unheard and empower forcibly displaced women and girls to lead self-determined lives."
Aiming to convene those who are actively engaged on behalf of – and together with – displaced women, the Network is currently comprised of 18 women activists – a diverse group of civil society, INGO, government and private sector representatives – leading initiatives to advance the social, political and economic participation of displaced women and girls in contexts of crises.
WPHF will establish and manage the funding window linked to the Action Network, which will channel rapid and flexible resources directly to local organizations led by and working alongside forcibly displaced women. Germany's BMZ has made an initial investment of 3.5 Million Eur to support the establishment of the new funding window. In its first official meeting in October 2020, the members of the action Network selected three countries where the funding window will launch its initial Call for proposals in 2021: Colombia, Nigeria and Yemen.
"We commend Germany and the WPHF on the launch of this groundbreaking new multi-stakeholder initiative," said Sarah Hendricks, UN Women's Director of Policy, Programme, and Intergovernmental Division and WPHF Board Chair. "This partnership will leverage the tremendous experiences of women in forced displacement, amplifying their agency to accelerate action and forge meaningful change."
Network members will meet regularly to support the implementation of local projects and inform global decision-making that empower displaced women and girls, contributing to policy processes such as the implementation of the Global Compact on Refugees or the Brussels conference in support of Syria and the region. They will also be involved in developing the thematic orientation of the new WPHF funding window, participate in the selection of projects and support grantees with visibility, networking, knowledge and advocacy opportunities.
"Women and girls constitute at least half of the 79.5 million worldwide displaced due to conflict, climate change or violent extremism," said Ghita El Khyari, Head of the Secretariat for the Women's Peace and Humanitarian Fund. "We have a responsibility to ensure that women in forced displacement are included – that their voices, perspectives, and experiences are actively shaping responses to the urgent challenges they face, which is exactly what this network and its associated funding window aim to achieve."
Originally published on WPHFund.org