News

CAFI summer events: a look back at the Oslo Tropical Forest Forum and CBFP meeting in Libreville

Image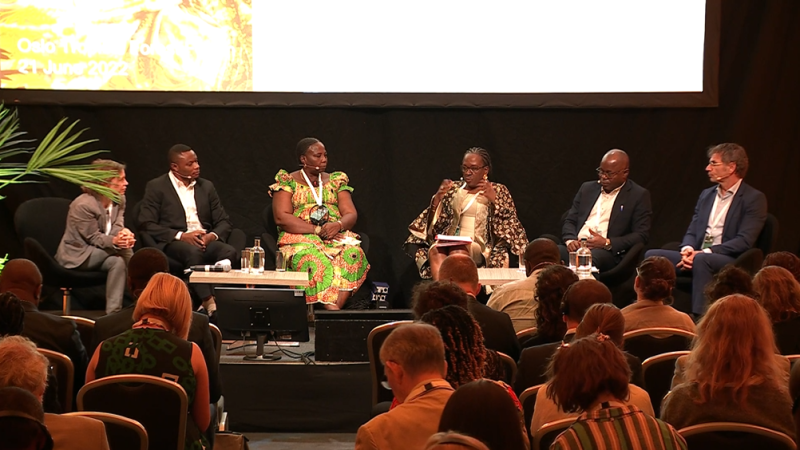 This year, the summer solstice, June 21, was chosen for CAFI's side event at the Oslo Tropical Forest Forum. This global conference hosted by Norad on behalf of NICFI was an opportunity to showcase what works for Central African forests and people, what does not, and what remains to be tried at scale.  
The event brought together high levels participants, such as Minister of Environment of Gabon and the Permanent Secretary of the National Climate Council, the Cabinet Director of the Ministry of Finance of the DRC, but also agricultural producers, representatives of indigenous peoples, implementing agencies, donors, and NGOs, who debated:   
What's the latest data and developments on tropical forests in one of the poorest regions in the world?   
DRC: can rural development solve the poverty/deforestation cycle? 
Gabon's innovative and sustainable approaches in the forestry sector. Could they work elsewhere?      
New approaches in fighting poverty to reduce deforestation at the sub-national le
This diversity of perspectives was designed to reflect CAFI's dual approach, that combines policy dialogue with field investments, support for broad-based reforms and structuring of the agricultural sector, community forestry, and so on. 
Watch : CAFI's full event at the Oslo Tropical Forest Forum : Win-win opportunities for people and forests in Central Africa (vimeo.com)) 
The event was an opportunity to showcase CAFI's latest data, obtained through a study undertaken by FAO. showing that the Central African region lost more than 2 million hectares of forest between 2016 and 2020 (half the size of Switzerland), while an additional 1.5 million hectares were degraded. These events are more than 90% related to the rural complex largely driven by a combination of small-scale agriculture and artisanal forestry. However, the drivers of deforestation and degradation vary amongst countries. Some key take home messages included:  
It is crucial to structure any assistance for rural development through land use plans that considers forests, as well as the needs knowledge, and capacities of the communities that live there and in particular, Indigenous peoples, and smallholders. CAFI's first partnership with the DRC has already resulted in an area the size of a quarter of Italy now being under local land use plans developed by some 1,200 local development committees, that collectively decide where to grow this or that type of agriculture, where to establish community forest concessions, etc. The challenge now is to ensure, how the UK underlined it in its concluding remarks, that these plans are implemented, with patience and inclusiveness. 
Second, partnerships with the private sector are essential and NGOs can catalyze them, particularly in the area of wood energy, that represents 93% of the household energy mix in the DRC. 
Current funding to Central Africa remains inadequate - despite the commitments of 1. 5 billion dollars pledged at COP 26 in Glasgow and CAFI's efforts in investments and results-based payments, with the acknowledged support of Norwegian hosts. The Central African region is only receiving a fraction of the estimated needs in its nationally determined contributions, and only a fraction of its potential offsets due to it, especially for its countries with high forest cover and low deforestation coupled with high biodiversity conservation 
In a video address, Professor Joseph Malassi, climate advisor to the Minister of Environment and Sustainable Development in DRC, welcomed CAFI's support to forest protection on the ground and high-level political leadership. 
By the end of the session, 65% of polled participants declared themselves energized, and 30% curious.   
Later in July, and closer to tropical forests, CAFI's Annual Forum and High-level roundtable on the vision 2030 for CAFI were organized in Libreville on 6 July and 7 July at the Congo Basin Forest Partnership Mop 19.   
The roundtable provided a space for fruitful dialogue and joint reflection amongst high-level representatives from CAFI's donor and partner countries as well as key technical partners.  
CAFI's Annual Forum 2022 successfully created a space for dialogue and exchange amongst more than 100 technical-level representatives from civil society organisations, implementing organisations, and governments in CAFI's partner countries in the Congo Basin, as well as technical-level representatives of CAFI's Executive Board. The event allowed stakeholders to address and discuss progress towards the objectives of the Letters of Intent signed between CAFI and three Central African countries (DR Congo, Republic of Congo and Gabon), lessons learnt and recommendations for the way forward. Furthermore, the event facilitated joint reflections on strengths and concerns raised by civil society with regards to the implementation of the objectives of the partnerships set up by CAFI.  
Originally published on www.cafi.org