News

Cristóbal: The son of peace and Colombian coffee

Image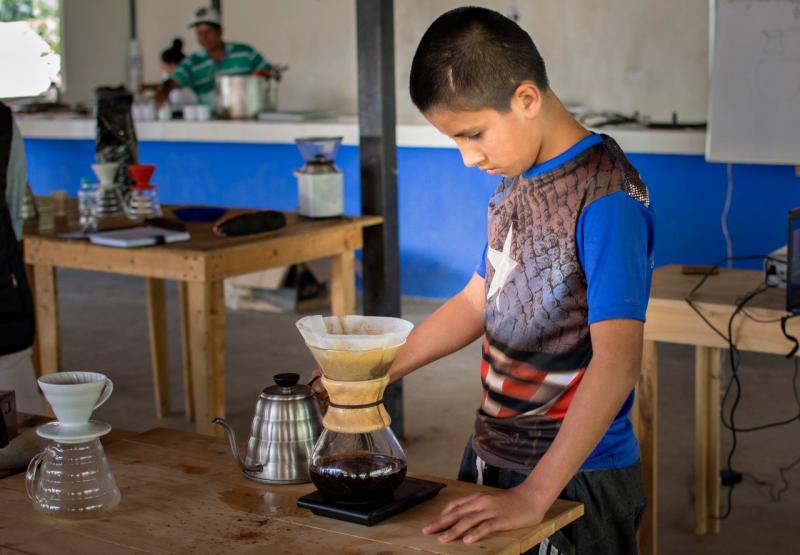 "I want to be a professional barista. I want to invent coffee preparations, travel and meet other baristas from other parts of the world to tell them what we do here in Planadas. I also want to keep training for the children's coffee cupping championships. Last year I was in the top ten, but in the end I didn't make one of the three finalist spots. This year I'm going to do better". With his lively and spontaneous voice, this child of peace and Colombian coffee's story reminds us of the right path to take."
He's 13 years old, clear-eyed and with a constant smile. His fiveyear-old sister sees him as a superhero and also wants to be a barista, just like him. Ever since he was introduced to coffee, cupping and serving, it has been his whole world and his new favourite pastime. Among his "top five" dreams, being a professional barista tops the list, followed by learning the drums, visiting China, speaking another language and playing futsal in a national tournament with his team from Planadas, Tolima.
And it is here in Planadas that the FARC-EP guerrilla group was born in 1964. Along these sloping mountains, coloured with every hue of green, this young boy's parents patrolled like military fighters for over 20 years, navigating every possible war scenario. When his mother became pregnant, she vowed to returned to the ranks once he was born. This meant handing him over to a relative and destroying any chances of seeing him. So, this child grew up with his aunt, while his parents waged war. Many years would pass before they would meet again.
In 2016 an Amnesty1 was called as a first step towards the signing of a peace deal. This was also the first step to seeing his parents again, and the chance for his parents, who had been in different camps, to meet again. For them, the signing of the peace deal did not just signify the path towards reconciliation in the country, but also the road to becoming a united family. From that point, the old "El Oso" TATR2 housed them and that's where they currently live with the newest member of their family: his younger sister.
In 2018, the Planadas Ecological Producers Association, ASOPEP3, arrived at that same TATR, with support from the Agency for Territorial Renewal (ART) and the United Nations Multi-Partner Trust Fund, to share their idea for a coffee school, "building a future", with which they hope to achieve peace by preventing the recruitment of children and adolescents, as well as training ex-combatants undergoing a reintegration process in skills linked with the specialty coffee business. This was how he came into contact with coffee, his country's most valuable fruit, for the first time, and how this dream, which he now claims is his number one, was fostered: to become a professional barista.