News

Five new programmes signed under Gabon's historic results-based partnership with CAFI

Image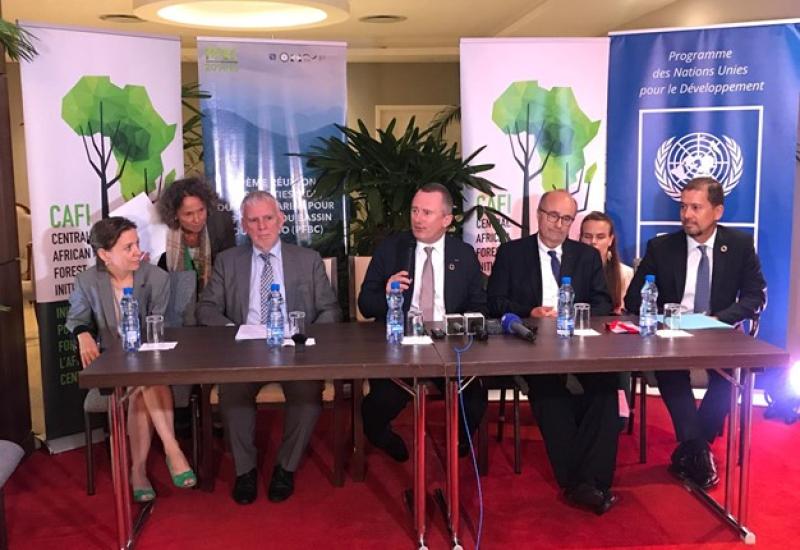 Libreville, Friday 8 July: As a result of Gabon's demonstrated reductions of emissions from deforestation and degradation of forests, the first five programmes under the country's results-based partnership with CAFI were signed by His Excellency the Minister of Waters, Forests, Sea and Environment, Lee White, along with the Resident Representative of UNDP in Gabon, Francis James, and – on behalf of the CAFI Executive Board - the Head of the CAFI Secretariat, Berta Pesti.
His Excellency the State Secretary of Economic Cooperation and Development of Germany, Jochen Flasbarth, and Special Envoy of the Norwegian Ministry of Environment and Climate, Hans Brattskar, commended Gabon for its efforts to preserve its forest ecosystems and important scientific work to provide credible carbon data.
As emphasised by His Excellency Minister White, Gabon has a unique status both in terms of carbon stocks and biodiversity, with a forest cover of 88%, historically low deforestation levels and the greatest remaining stronghold of forest elephants in the world. Gabon is the first country to have signed a results-based partnership with CAFI, in 2019, and the first African country to receive monetary compensation for national, externally verified reductions of emissions from deforestation and degradation of forests.
The first results-based payment from CAFI, of 17 million USD, corresponds to Gabon's externally verified reductions of more than 5 million tonnes of CO2 in the years 2016 and 2017. The payment enables the implementation of five new programmes developed and validated by Gabon's National Climate Council, in compliance with the National Investment Framework. Special Envoy of Norway, Mr.Hans Brattskar, congratulated Gabon for the signature of the programmes, which will support the government's important work to improve the governance of natural resources and promote long-term sustainable development.
The programmes will strengthen forest governance through community forestry and forest certification, promote urban green spaces, conduct monitoring and research on forest ecosystems, and safeguard and expand the protected area network. In addition, one of the programmes is dedicated to the coordination, monitoring and reporting on the entire portfolio of programmes, as well as building government capacity on climate governance.
The Gabonese government's commitment to preserving its forests, as His Excellency the State Secretary Mr. Jochen Flasbarth noted, has laid the foundation for many years of fruitful collaboration with CAFI. The new programmes complement the existing portfolio of two CAFI programmes in Gabon, CAFI 1 on land use planning and forest monitoring and CAFI 2 on optimising land use and expanding the protected areas network.
The new programmes will be implemented by UNDP, TNC (The Nature Conservancy) and UNESCO, in collaboration with experienced national implementing partners.
Originally published on www.cafi.org