News

Global: Kristen Bell to Serve as Advocate for Women's Peace & Humanitarian Fund

Image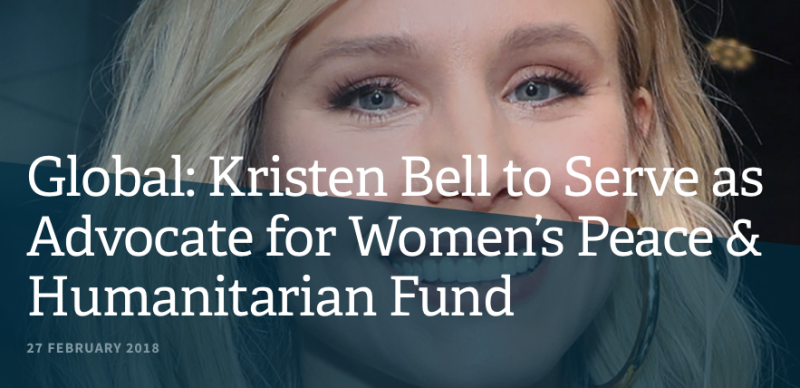 (New York) – American actress and activist Kristen Bell will become the first global advocate for the Women's Peace & Humanitarian Fund (WPHF)—a United Nations and civil society partnership supporting women to prevent crises and build peace—the fund announced today. In her new role, Ms. Bell will advocate on behalf of local women across the globe who are working to make our world a more peaceful and gender-equal place.
​"I'm honored to advocate for these inspiring women who are working to end conflict, rebuild communities and advance gender equality," said Bell.
Image
Globally, humanitarian crises and threats to peace are more common than ever before. UN studies show that women's inclusion in conflict resolution accelerates peacebuilding, expands humanitarian reach and advances gender equality. When women are empowered to meaningfully participate in crises response, their contributions undeniably result in more lasting peace.
Despite this, women's participation in peacebuilding today remains needlessly low. Financial resources supporting the activities of women peacebuilders are dramatically underfunded worldwide. On average, local women's organizations receive less than one percent of aid allocated to countries in crisis.
As a global partnership of the United Nations, world governments, and civil society organizations—WPHF helps to fill this gap by raising funds to support the work of women peacebuilders on the ground.
"It's my joy to be a women mediator," said Mary, a 44-year-old farmer and member of a local network of WPHF-supported women working to prevent conflict in Burundi. "My work resolving local disputes makes me feel confident and powerful, and I can see the positive impact we're having in my community."
To date, WPHF has supported over 30 local women's organizations like Mary's, across four countries with grants of over US $7 million.
"WPHF is mobilizing much-needed support for women in crises, and we couldn't be happier to have Kristen on board," said Ghita El Khyari, Head of the WPHF Secretariat. "Her passion for this work will help give voice to equally-inspiring women who are working to end conflict and build peace in their communities."
In addition to her work as an accomplished actress, Kristen Bell is a committed humanitarian and fierce advocate for women's rights. Her prolific career spans movies and critically acclaimed television shows like Veronica Mars, Frozen, Bad Moms, Forgetting Sarah Marshall, and the current hit NBC show, The Good Place.
"At this critical moment, it's more necessary than ever to see women speak with ownership and confidence," Bell said. "I'm thrilled to be working with WPHF to help empower local women fighting for peace."
You can find Kristen Bell on Twitter.
The Women's Peace & Humanitarian Fund (WPHF) is the only global financing mechanism dedicated exclusively to supporting the participation of women and their organizations in peacebuilding and humanitarian action. WPHF is an innovative partnership between the United Nations, member states, and civil society. Generous support for WPHF comes from the governments of Australia, Canada, Ireland, Spain, the United Kingdom, Liechtenstein, and Lithuania.
Originally published on WPHFund.org