News

Global: WPHF Launches Urgent Funding Appeal to Support Women's Civil Society, Respond to Earthquake Emergency in Syria and Türkiye

Image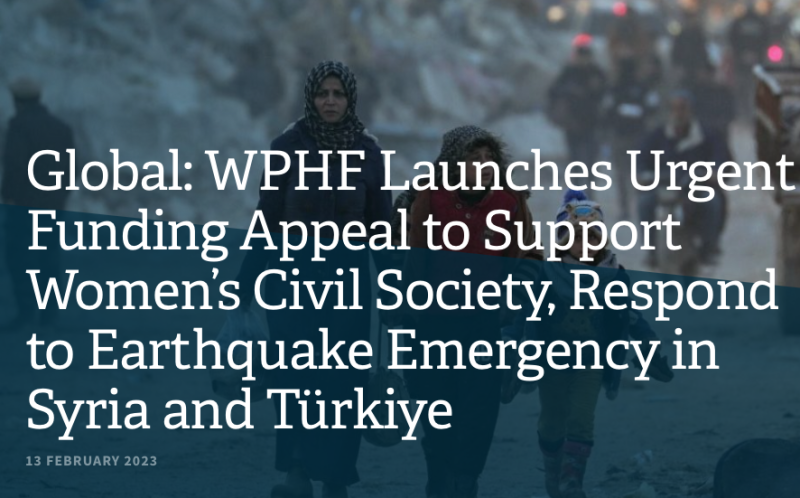 WPHF - (New York) — The United Nations Women's Peace and Humanitarian Fund (WPHF) announced the launch of its latest emergency funding appeal to rapidly mobilize urgently-needed financing for local women's organizations in Syria and Türkiye responding to the earthquake disaster and addressing the urgent needs of women and girls on the ground.
"Local women's civil society groups have long been at the forefront of humanitarian response in Syria and Türkiye," said Ghita El Khyari, Head of the WPHF Secretariat. "They have the strategic partnerships, legitimacy, and capacity to reach the most marginalized and vulnerable communities and should be supported now more than ever."
On 6 February 2023, two earthquakes of 7.8 and 7.5 magnitudes — the region's strongest in nearly a century — struck south-east Türkiye and north-west Syria, leaving both areas on the brink of a humanitarian crisis. The United Nations Office for the Coordination of Humanitarian Affairs (OCHA) estimates that, as of 12 February, more than 4,300 deaths and 7,600 injuries have been reported in Syria, and that the collapse of thousands of buildings has left over 11,000 families homeless and unable to cope with cold winter conditions. The death toll is expected to continue to rise.
Syria's decade of internal conflict has resulted in the largest displacement and refugee crisis in the world, forcing half of the country to flee their homes and taking a disproportionate toll on women and girls. In north-west Syria, close to 90% of the population rely on humanitarian assistance to meet their most basic needs — the majority of whom are women and children, who face additional challenges such as increased exposure to sexual and gender-based violence (SGBV), food insecurity, and limited access to decision-making and economic opportunities. In Türkiye, the world's largest refugee-hosting country and shelter to over 3.6 million Syrians, the earthquake has further deteriorated the vulnerable situation of displaced women and girls, putting their safety and livelihood at stake.
In the face of this rapidly evolving emergency, it is essential that women's organizations in Syria and Türkiye are supported as key actors on the ground and that they play critical roles in decision-making related to humanitarian action.
The WPHF emergency funding appeal for Syria and Türkiye will mobilize up to 10M USD to support local women's organizations working across three priority areas: Strengthening women's participation and leadership in planning and responding to humanitarian crises; Enhancing the safety, security, and mental health of women and girls; and improving the socioeconomic recovery and political participation of women and girls in peacebuilding contexts.
The first phase of WPHF's earthquake emergency response will focus on Syria, channeling funding to pre-identified local women's CSOs working across north-west Syria working to respond to the urgent needs of their communities. This will be followed by a public Call for Proposals to mobilize women's organizations that can respond to the crisis and address the specific needs of women and girls in both countries.
The Call for Proposals will make available financing for civil society organizations that build the resilience of Syrian and Turkish women and girls through programmatic funding from 30,000 USD to 200,000 USD, and institutional funding to help sustain and strengthen women's organizations throughout the crisis with grants from 2,500 USD to 30,000 USD.
Originally published on www.wphfund.org