News

Resilience gone viral: Community peacebuilding in Colombia

Image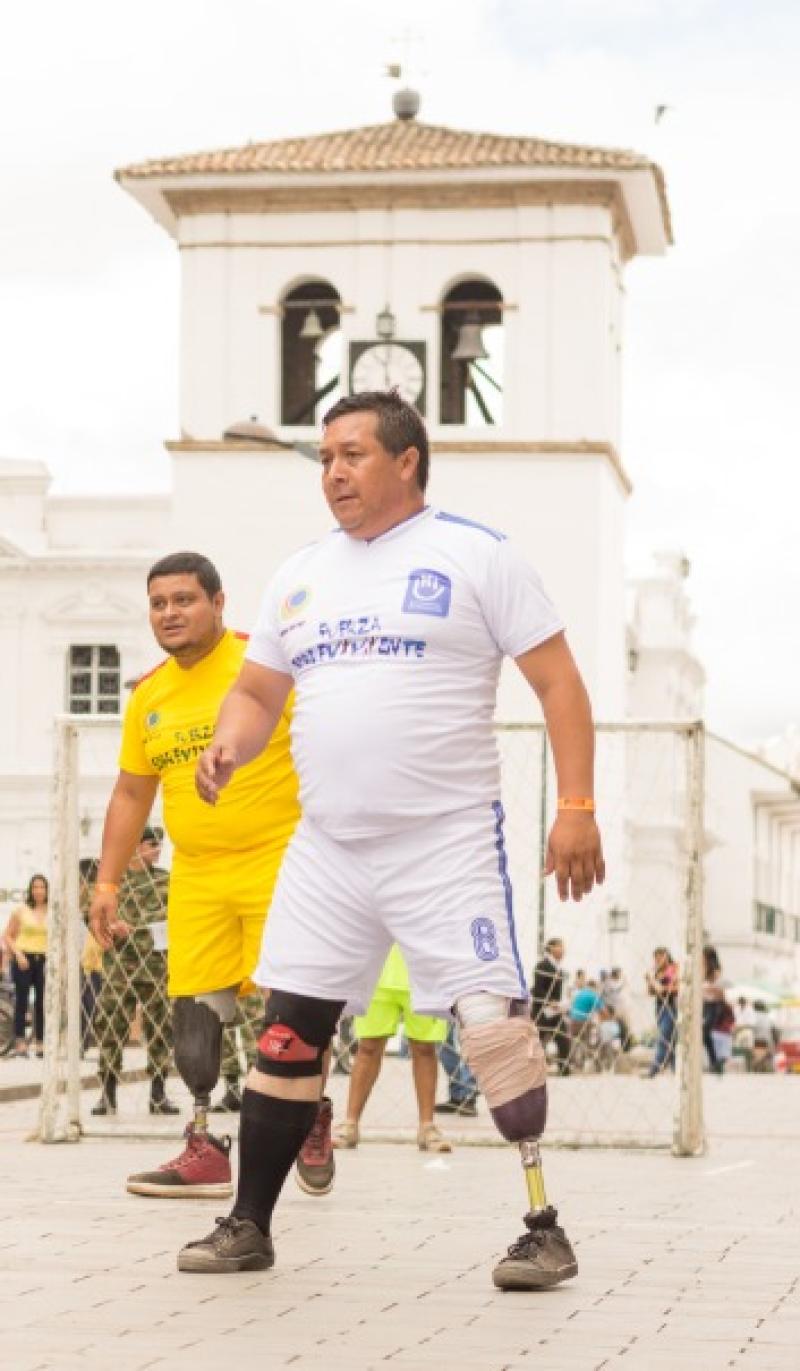 Financing community-based peacebuilding services in Colombia.
Like other members of his family, Adelmo Uni worked on a farm in the southwestern corner of Colombia that served as a stronghold for a dozen paramilitary groups. Instability meant the area was overlooked in peace processes and that generations of families found themselves situated in the crossfire of disputes between regional militias and government forces over land, drug trade routes, and political power plays.
During an uptick in violence several years ago Uni heard gunshots close to his farm. Concerned that a rebel group was closing in he immediately dropped his tools and sought cover. When the fighting came to a stop Uni emerged and returned to his farm since he could not leave behind the valuable tools that helped him earn a living. Despite being overly cautious he set off a landmine that had been laid close to his farm. The misstep resulted in Uni losing his left leg.
Unfortunately, Uni is not alone. Whole communities have been similarly affected by decades of conflict and lack of access to quality services. As long as regions like Cauca have a limited state presence any legitimate operations tend to be ineffective because of absent human and financial resources. This ongoing social stagnation is why civilians stepped up and demanded widespread change.
In southwest Colombia alone, tens of thousands of community members have partnered with local and international organizations to create peace dividends and sustainable development outcomes.
From darkness to light
The Colombia Peace Multi-Partner Trust Fund (MPTF) assists individuals like Uni, mobilizing and coordinating financing for interventions that support the implementation of the national peace agreement. Fund partners can access capital for use in the design, piloting, and scaling up of solutions that address high-risk situations and causes of conflict in some of Colombia's most remote regions, Cauca included.
In the years following the explosion that cost him his leg, Uni became so depressed he withdrew from the world, which affected his livelihood and family situation. After some time, however, Uni found the strength to shift his overall perspective. Unsatisfied with living under the shadow of trauma he chose to transform his life by reaching out to other landmine survivors.
Financing community-based projects helps tens of thousands establish and scale up vital services that consolidate peace in the most affected regions of Colombia.
After speaking to local administrators Uni organized recurrent meetings for men and women in his community who underwent similar experiences. Uni invited anyone who had the direct misfortune of crossing an antipersonnel mine to share their stories along with people who may have suffered indirectly, but had ideas for how to build stronger and more resilient communities.
Alongside national, policy-focused initiatives, local programmes like Uni's formed the bedrock of the Colombia Peace MPTF. Fund resources are invested in various peacebuilding approaches such as piloting and ramping-up community methodologies for small-scale infrastructure projects, applying national antipersonnel mine policies to local areas, or strengthening coordination between national and territorial administrations responsible for demining acres of land—particularly in conflict-ridden parts of the country.
The road to peace is paved with collective action
With time, the changes Uni worked toward came to fruition. He collaborated with interested parties throughout Colombia to establish, and eventually preside over, the Mining Survivors Organization of Cauca (Asodesam). This association became a model for many others, including several that fall under the Colombia Peace MPTF umbrella. With government support Asodesam and other organizations succeeded in launching mine risk education services in the hardest-hit communities.
Since 2016, Colombia Peace MPTF stakeholders have created 1,500 jobs for ex-combatants, provided psycho-social care to more than 30,000 individuals, and cleared unexploded ordinance from more than 58,000 square meters of land in affected communities—the latter benefitting over 33,000 people.
With the second phase of the Colombia Trust Fund underway, operations are rolling out in parts of the country hardest hit by conflict. New investments will fill gaps in places where resources are scarce, enabling people like Uni to keep launching and scaling up projects vital to the consolidation of peace in Colombia.
One would think that Uni's life now looks near perfect, but in spite of the achievements made he still gets tired. There are days he wants to walk away from the responsibilities of being a social leader or avoid the risks associated to his position. Feeding chickens or tending to cattle seems less stressful than answering urgent calls or sacrificing his life. However, Uni realizes that his experience changed him for the better and put him on a different, more authentic path. He is proof of how resilience can be infectious and impact thousands, provided one has the courage to show how change can be manifested at various levels.