News

At UN Climate Summit partners step up efforts to protect Central African forests

Image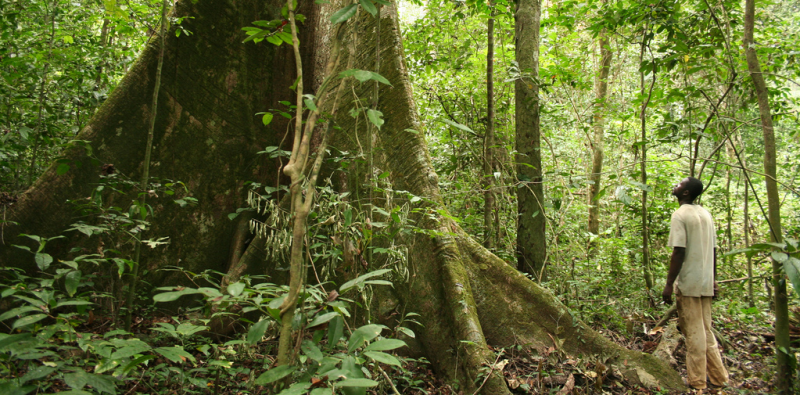 Central African forests, a vital carbon sink for the globe and essential resource for communities and governments, are key to our planet's future. At the UN Secretary-General's Climate Action Summit (23 Sept.), donors to the Central African Forest Initiative (CAFI) joined forces to reiterate support and financial contributions.
25 Sep 2019. The unprecedented level and pace of forest loss observed in the past three years are early warning signs to point to extreme risks, and as the world's second largest tropical forest, this area could undergo drastic change; Urgent, scaled-up action - from governments, development finance institutions, investors and companies - is needed to tackle multiple threats to forests.

In response to commitments from Central African countries to achieve ambitious climate and forests targets, the EU, France, Germany, Norway, South Korea and the UK pledged to increase funding with CAFI. But much more is needed.
Gabon: First country in Africa to receive payments for preserved rainforests
Gabon will receive breakthrough USD 150 million funding from Norway via the CAFI initiative to continue fighting climate change through sustainably preserving and managing its natural resources; its forests cover almost 90 percent of its territory. For the first time, an African country will be rewarded for reducing its greenhouse gas emissions from deforestation and degradation, as well as for absorption of carbon dioxide by natural forests. This partnership provides Gabon with a major incentive for cutting greenhouse gases by setting a carbon price floor at USD 10 per certified ton.

Since early 2000s, Gabon has preserved rainforests by creating (13) national parks, one of which is listed as UNESCO's Natural Heritage, and made significant advances in timber resource management (outside its parks). As a result, with only 12% of the Congo Basin forests, it hosts almost 60% of the surviving forest elephants in Africa – a key indicator of sound natural resource governance. The agreement will reward past performance – as verified results since 2016 compared to the previous decade from 2005 to 2014 – and future results, to be paid annually through 2025.

"We have to raise the value of the Gabonese rain forests in order to ensure that conservation and sustainable exploitation can be used as tools to improve the living standards of the Gabonese people by creating jobs and livelihoods, whilst also sustaining natural capital, and to preserve our natural treasures and biodiverse ecosystems" commented Gabon's Minister of Forest, Seas, Environment and Climate Change, Professor Lee White. "Beyond rewarding reductions in forest loss, we need to provide Central African countries, especially those with low historic deforestation rates, with more incentives to preserve standing forests, and value forest conservation and good forest stewardship", said Ola Elvestuen, Norway's Minister of Climate and Environment. "CAFI's latest agreements are ambitious: USD 150 million of results-based payments for emission reductions with Gabon – who aims to maintain 98% of its extensive forest cover - and USD 65 million with Republic of Congo – a country committing to protect its high carbon stocks and biodiversity-rich forests and refrain from draining precious peatlands," he added.
Trailblazing pledges from Germany, South Korea, the European Commission
On top of other commitments to the CAFI, several donors have stepped up in New York with important pledges to support ambitious climate and forest targets from six African countries hosting the second largest rainforest after the Amazon and one of the largest watersheds in the world.

Germany pledged USD 33 million, the Republic of Korea announced a USD 2 million contribution, and earlier this year, the European Commission announced a USD 17 million contribution.
These new donors seek to enhance existing preservation of rainforests across the six CAFI partner countries – Cameroon, Congo (Republic of), the Central African Republic, the Democratic Republic of Congo, Equatorial Guinea, and Gabon – through a holistic approach that addresses all sectors affecting forests.

"Our contribution to CAFI demonstrates our genuine commitment to coordinated and scaled up actions in the Central African region, where rural development and land use planning are key to tackling the root causes of forest loss," said Dr Maria Flachsbarth, State Secretary to Germany's Federal Minister for Economic Cooperation and Development.

Chongho Park, Deputy Minister of the Forest Service of the Republic of Korea, declared: "Our contribution shows our commitment to sustainable forest management by reducing deforestation and improving the lives of communities. South Korea, as a country experienced in forest rehabilitation, aims to contribute to maximizing the role of forests in addressing climate change and poverty reduction."
Established in 2015, CAFI supports strategic and holistic national investment frameworks based on REDD + and low emission development, focusing on six high-forest cover countries in Central African region.

CAFI is managed by the United Nations Multi-Partner Trust Fund Office (MPTF Office), where United Nations agencies, the World Bank and bilateral development partners act as implementing agencies to support partner countries. The United Nations Development Programme (UNDP) hosts the CAFI Secretariat in Geneva.

More info:
https://www.cafi.org/content/cafi/en/home/all-news/gabon--first-in-africa-to-receiving-payments-for-preserved-rainf.html
https://www.cafi.org/content/cafi/en/home/all-news/urgent-action-needed-to-prevent-drastic-change-in-worlds-second-.html
https://www.cafi.org/content/cafi/en/home/all-news/new-donors-pledge-over-50-millions-dollars-to-cafi.html