News

UN COVID-19 Trust Fund successfully completes its operation

Image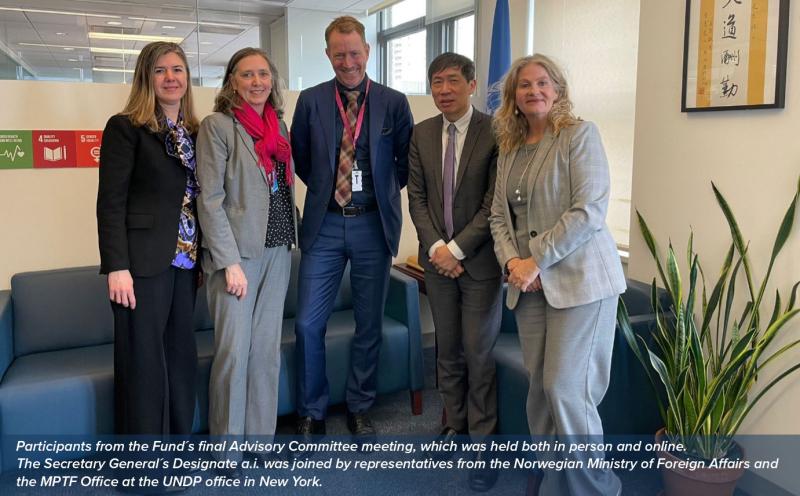 The Secretary-General's COVID-19 Response and Recovery Fund supported socioeconomic recovery initiatives in 84 low- and middle-income countries during COVID-19 crisis.
The United Nations COVID-19 Response and Recovery Fund has officially completed its operation after three years of effective work to support the least developed, and low- and middle-income countries in overcoming the health and development crises brought on by the Covid-19 pandemic. The concluding meeting of the Advisory Committee took place in New York on 3 March 2023 to share results, highlight lessons learned, and ensure the best practices pioneered by the Fund are incorporated into other UN pooled funds and joint initiatives.
The Fund was established as a time-bound funding mechanism in April 2020 with the aim of providing urgent support to countries most vulnerable to financial hardship and social disruption. It was guided by the Deputy Secretary General and the Chair of the UN Sustainable Development Group and was financed by generous contributions from 26 donors, including UN Member States and private donors. The Multi-Partner Trust Fund Office, the UN center of expertise in UN pooled funding, served as its trustee, ensuring the highest fiduciary standards.
The Fund was able to swiftly mobilize resources to fill funding gaps in the UN joint work plans for the immediate socio-economic response to COVID-19, providing $83.6 million to 97 joint programmes in support of socioeconomic recovery efforts in 84 countries across the world. Over 50 of these programmes commenced within eight weeks of the Fund's launch, at the onset of the crisis. It brought together the expertise and capacities of 24 United Nations entities, which was key for coherent and effective joint programmes.
Haoliang Xu, UN Secretary-General's Designate a.i. for the UN COVID-19 Response and Recovery Fund expressed its "sincere gratitude to the 26 donors, including UN Member States and private donors, for their generous contributions." He also thanked "the members of the Advisory Committee for their strategic guidance and expert advice, the UN Resident Coordinators and Country Teams around the world for their tireless work on the ground, UNDP's Multi-Partner Trust Fund Office for its effective stewardship and fund administration and the staff of the very small Fund Secretariat for their dedication and professional support".
UN joint action in a context of development emergency
The Fund demonstrated a Development Emergency Modality, was successfully adopted by the UN Joint SDG Fund, which adopted as a Development Emergency Window to streamline and strengthen the UN's response to future socio-economic development crises.
In its lifetime, the Fund successfully demonstrated that the UN Development System is capable of receiving and disbursing funds for high quality programmes, with significant speed to respond to an evolving development emergency. It leveraged the UN Development System reform by working through the Resident Coordinator system to ensure effective inter-agency collaboration and promote the status of UN common programming at the country level.
The Fund was able to launch two calls for proposals and establish a pipeline of 204 vetted and readily implementable joint programmes. These initiatives acted fast to meet immediate needs, such as to supply personal protective equipment (PPE). They also managed to maintain vital services to protect food security and nutrition and kept schooling on track.
Early in the pandemic, programmes went on to lay the foundations for an economic recovery by creating new forms of employment services linking job seekers and providers. Training and finance for small firms, especially those run by women and youth, meant they could regain lost ground and even innovate and explore new avenues for commerce. Programmes strengthened value chains, including through introducing new technologies, and shored up hard-hit sectors, particularly in agriculture.
Results for socioeconomic recovery
The Fund achieved significant results as attested by the Fund's final report, with 19.4 million people accessing health services and increasing their awareness about COVID-19 and health protection measures, 17.2 million people with improved access to social protection and basic service, and 5.8 million people accessing economic recovery programmes and sustained livelihoods.
In addition, 95 UN assessments provided technical guidance on health-care and business diagnostics and 82 public policy processes were supported to facilitate rapid government action on telemedicine, women's empowerment and gender-inclusive business, among other public intervention areas.
The Fund pioneered gender mainstreaming and implementation of gender markers, with 98% of joint programmes having a gender marker score of 2 or 3 reducing gender gaps with significant or principal activities in gender equality.
Successful completion
The completion of the COVID-19 Trust Fund demonstrates the value of UN joint work to act quickly and comprehensively to address a global development emergency. It has also demonstrated the value of pooled funds in development emergency contexts ensuring a cohesive, rapid, and focused UN system response. The Fund has laid the foundation for a Development Emergency Modality and pioneered gender mainstreaming and implementation of gender markers. Lessons learned are being embedded in existing and new pooled funds.
For more results: United Nations COVID-19 Response and Recovery Fund Final Narrative Report (February 2023)