News

United Nations: WPHF Launches New 300M Campaign Goal, Sparks Global Movement to Scale Up Support for Frontline Women's Groups

Image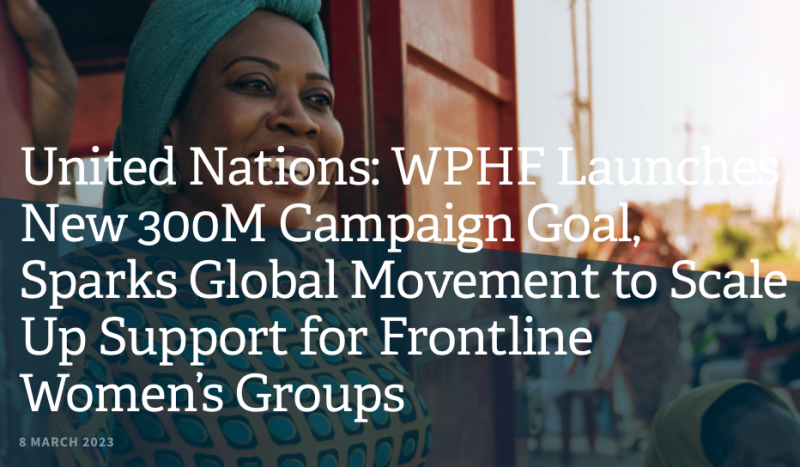 WPHF - (New York) – The United Nations Women's Peace and Humanitarian Fund (WPHF) announced on International Women's Day the launch of a new campaign to accelerate support for local civil society groups working in fragile settings to respond to crisis and build lasting and sustainable peace.
The WPHF Invest-In-Women Global Campaign is calling on governments and other donors around the world to step up their financial commitments to meet the urgent needs and support the transformational impact of local women's organizations in the face of the increasingly complex crises of a rapidly evolving world.
Through its new campaign, WPHF aims to mobilize USD 300M in new financing for local women's groups by the end of 2025 and commits to supporting 3,500 local women's organizations working to prevent conflict, negotiate and build peace, protect women and girls from sexual and gender-based violence, and to meaningfully participate in the humanitarian response efforts in their communities.
"The WPHF Invest-In-Women Global Campaign will open up new doors of support for emerging women's organizations leading local peacebuilding and humanitarian efforts, said Ghita El Khyari, Head of the WPHF Secretariat. "The world must scale up support for organizations that reach, are led by and work alongside the most marginalized groups – particularly organizations that have never received funding from the UN before."
This campaign will harness global attention and momentum leading up to the WPHF Invest-In-Women High Level Summit, WPHF's global replenishment conference to be held in October 2023, which will convene governments, civil society leaders, UN entities, celebrities, philanthropists and the private sector around this shared commitment. The High Level Summit will constitute a milestone opportunity for UN Members States and other donors to announce ambitious new financial commitments to invest in the transformational power of women and their local civil society organizations worldwide.
To usher in and celebrate the launch of the new campaign, three global landmarks – the London Eye in the United Kingdom, the Jet D'eau in Switzerland and the CN Tower in Canada – will light up the skies in the colors of WPHF on International Women's Day 2023, helping to spark a global movement to accelerate support, amplify the voices, and scale up the impact of frontline women's groups across the globe.
"We must adapt to meet the new realities and complexities of the evolving world, while rising to the challenge to ensure local, frontlines women's groups have the financing they need, El Khyari said. "Together with our partners, WPHF is building on its legacy of innovation and impact to unlock the power of women on the front lines."
Originally published on wphfund.org