News

Human Rights Mainstreaming Fund Steering Committee holds annual Strategic Dialogue with Partners

Image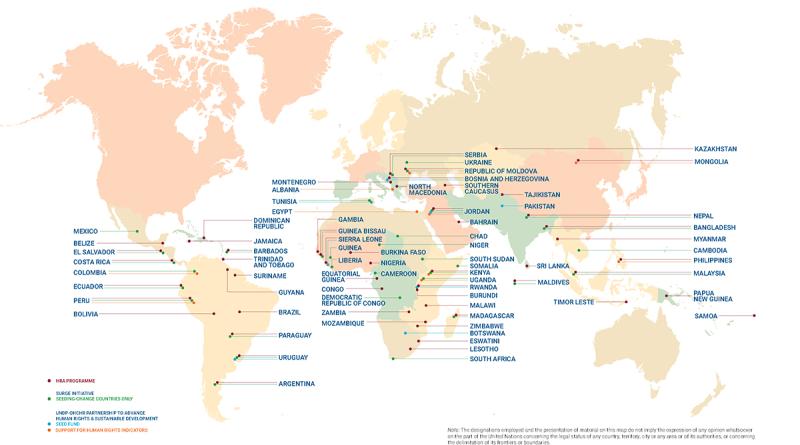 The Human Rights Mainstreaming Fund (HRM Fund) held its Annual Steering Committee Strategic Dialogue with Partners on 7 December 2022, which provides a platform for a systematic dialogue between Fund Steering Committee members and current donors, to inform the Fund's strategic directions.
The annual dialogue discussed the 2021 progress highlights, which include: policy coherence in UNDS reform, strengthened Resident Coordinator and UN country teams' human rights leadership; human rights further integrated in the 2030 Agenda support; the operationalization of economic and social rights; and strategic engagement with UN human rights mechanisms. In 2021, the Fund reached more UNCTs with more diverse forms of support, and direct and in-country engagements in 73 countries.
The dialogue featured reflections from the Steering Committee members on key initiatives implemented with support from the Fund in 2021 and 2022. The UN RC in Kenya also joined as a guest, highlighting the impact of the Fund's support to strengthen UN leadership on human rights and partnerships with Member States, including the in-country Human Rights Adviser and the specialized advice on macroeconomics through the Surge Initiative.  UNCT achievements included support to the government on human rights-based approach to data, prevention work with the Peace and Development Adviser, and countering online hate speech during the election period. The donor partners reiterated their appreciation and support for the Fund's unique value-add. The donor partners and Steering Committee had a rich discussion and exchange of ideas on potential joint efforts towards addressing the critical funding gaps.
Image
The HRM Fund is committed to the advancement of human rights and sustainable development, and the Annual Steering Committee dialogue with partners serves as a platform to assess progress and strategize for the coming year. It is a formal part of the HRM Fund governance mechanism. 
The HRM Fund is an inter-agency pooled fund that has been operating for more than 10 years, with a total of USD 39.3 million in contributions from the governments of Sweden, Norway, Denmark, Finland, Switzerland, Germany, and Ireland. The inter-agency Steering Committee is chaired by The Office of the High Commissioner for Human Rights (OHCHR).  The current participating UN organizations in the Fund are OHCHR, UNDP, UNICEF, UN Women, UNESCO, UNFPA and ILO. The Fund's Secretariat is hosted by DCO and it is administered by the Multi-Partner Trust Fund Office. 
More info: