News

Pooled financing at the 77th UN General Assembly

Image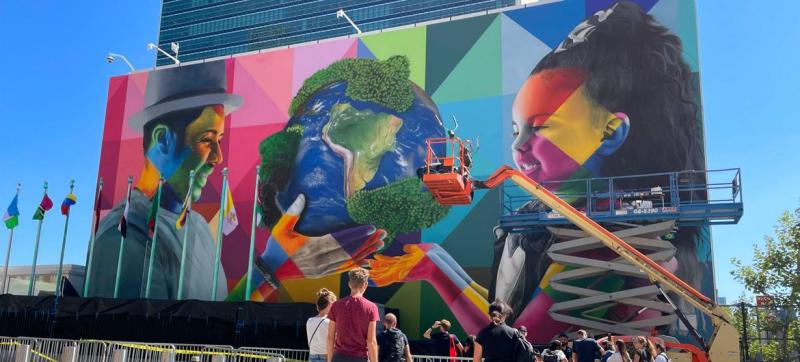 UN inter-agency pooled funds are centers of gravity for multi-stakeholder partnerships on critical development and humanitarian issues. During the 2022 UN General Assembly multiple initiatives and the work of the UN Multi-Partner Trust Fund Office were highlighted in several events, meetings and discussions.
Flexible, robust, transparent, and reliable financing are features of the inter-agency pooled funds administered by the MPTF Office, and critical for supporting and catalyzing development, peace, climate, and humanitarian action. Pooled funds bring the United Nations together by strengthening coherence, reducing fragmentation, broadening donor participation, sharing risk, and making it easier to tackle multi-dimensional challenges with comprehensive and innovative solutions.
Features like these are why, during the 77th UN General Assembly in 2022, existing and new pooled funding mechanisms took centre stage. MPTF Office representatives were invited to contribute to several events to offer expertise on UN and SDG financing, offering examples of how pooled funding is central to UN responses to current humanitarian and development challenges around the world.

The UN Secretary-General updated partners on

Global Accelerator on Jobs and Social Protection for Just Transitions progress, which launched in 2021. The ambition for the accelerator is to bring together Member States, International Financial Institutions (IFIs), partners from the social protection industry, civil society, and the private sector to help national stakeholders create 400 million decent jobs in the green, digital and care economies, as well as extend social protection coverage to the 4 billion people who are currently excluded.
Financing the Global Accelerator comprises two linked funding streams: Technical support facility and catalytic funding to leverage financing. Funding to the technical support facility is to be channeled through the UN Joint SDG Fund window on decent jobs and universal social protection. "The need for the Accelerator is, if anything, accelerating," said Guterres before requesting Member States to "give generously through the Joint SDG Fund or other mechanisms to help transform the Accelerator from a promise to reality."
Key UN partners: ILO, IOM, ITC, ITU, EOSG, UN Women, UNDCO, UNDP, UNEP, UNICEF, WFP, and WHO
Trust fund page: MPTF Office Gateway
Watch recording: UN Web TV
The recently established UN Health4Life Fund took centre stage at a side event on mobilizing resources and technical support with, and for, Member States to deliver on non-communicable disease and mental health-related Sustainable Development Goal targets. Trust Fund stakeholders hope to mobilize and invest $250 million US dollars over five years to leverage international and domestic financing. It is hoped this will also accelerate action to achieve SDG 3.4, which is expected to save 39 million lives and realize $2.7 trillion US dollars in economic benefits.
Key UN partners: WHO, UNDP, UNICEF and UN Interagency Task Force on NCDs
Trust fund page: MPTF Office Gateway
Watch recording: UN Web TV
United Nations Deputy Secretary-General, Amina Mohammed, and World Bank Managing Director for Development Policy and Partnerships, Mari Pangestu, convened global leaders around the theme of "Data with Purpose" to explore how new data systems can unlock exponential value and address the biggest challenges of our time. As organizers of the event affirmed, "Unleashing data's potential to optimize the effectiveness and impact of resources will necessitate greater investment and support from a wider pool of new donors and public and private sector actors."
The UN Complex Risk Analytics Fund (CRAFd), which is administered by the MPTF Office, and World Bank Global Data Facility (GDF) are pooled funds that were designed to harmonize and catalyze investments in building out data systems. Focusing on data (ecosystem) development has the capacity to transform the lives of billions by raising and deploying over $500 million US dollars. CRAFd will coordinate investments in risk data and analytics for faster and more targeted and effective programs for people living in fragile and crisis-affected settings. Meanwhile, GDF is designed to catalyze long-term domestic and international support for integrated national data ecosystems in low and middle-income countries.
Key UN partners: EOSG, UN Technology Envoy, UNDP, UNEP, WHO
Trust fund page: MPTF Office Gateway
Watch recording: UN Web TV
More: Read investment case
Similar to previous years, the Dag Hammarskjöld Foundation and MPTF Office released a new edition of the

UN Financing the UN Development System report

: Joint Responsibilities in a World in Disarray. The report brings together data, analysis and expert voices along with the latest on UN financing and impacts on SDG achievement. The report is meant to support policy makers, researchers, general public and all stakeholders interested in improving their understanding of how the UN is financed to better support shared goals.
The launch event, co-sponsored by the Swedish and Jamaican permanent missions to the UN, was used to present the latest data on UN funding and SDG financing trends. A new microsite was unveiled, which hosts all reports to date and with an option to download each edition. Stakeholders now have easier access to data and can interact with it through visualizations to better understand UN financing trends.
Watch recording: Video
Interact with data and previous reports: https://financingun.report/
The Joint SDG Fund launched the Breakthrough Alliance on Tech & Media Funders campaign while the MPTF Office participated in the launch of a new report of the Global Partnership for Effective Development Cooperation: A Space for Change: Partner Perspectives on an Effective Multilateral System..